Small – Bedside Therapy Harps
Portable but a bit heavier than the "Interactive Therapy Harp" These harps are perfect for the beginning harp player and come equipped with the finest Truitt Levers. When purchasing one of these harps, your teaching materials come free! You receive either the first two Rainbow of Sound Books and DVDs or the first two Creative Harping DVDs with binder and papers.
---
Package #7A – partial Truitt levers on C's & F's
Therapy Harp 26 String "Even Song – by Stoney End Walnut or Cherry, 26 strings, from C one octave below Middle C: 3 1/2 octaves.Fs, Cs, and Bs Truitt levers, adjusting tool, tuning wrench, adjustable bridge pins and tool, Kneebones, Shoulder Strap with mounting buttons, full set of extra strings, padded case, cradle stand and carrying bag, 5 year warrantee. 9.5 pounds 41 inches high, 21 deep and 10 wide.
NOTE: The harp cradle for parking only comes with the package with Full Truitts is now $1799 retail. The package includes a harp cradle, wrench, knee bones , 26 Truitt levers, padded harp strap, book, charts , adjustable bridge pins, LOGO padded harp bag, cradle bag, lever adjustment and bridge pin tools. The playing base is available now but is an extra $95 retail.  The harp has to ship n 2 boxes to keep within 130 inches guidelines.
Pkg 7A – partial Truitt levers on C's & F's -Price $1599.00 (includes padded case)
Pkg 7B – Full set of Truitt Levers – Price $1799.00 (includes padded case)
Charge for shipping $135.00
Extra set of strings $75.00 Removable leg base so it stands upright on floor $100.00
---
Package #8A
THE NEW TOURING 33 CX
LISTEN AND VIEW THE HARP HERE
Carbon Fiber/Wood Soundboard/Soundbox Harp
designed by Dwight Blevins and Christina Tourin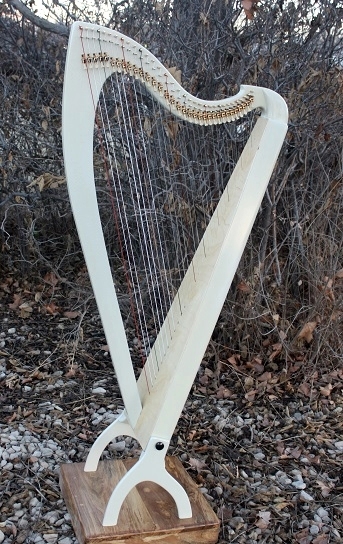 The Touring 33 harp – 10.5 lbs w/o feet
The Blevins Bouree CX 28 harp has been fantastic – it fits right in the overhead and fills a Stadium with 7000 people with it's beautiful amplification  –  but I wanted 3 extra strings at the bottom to have the complete 2 octaves below Middle C. In addition I wanted a flat bottom instead of curved so it would not sway back and forth on a bed or chair. I also wanted more elegant lines with a curve so that a pillar prompter or hand could hold onto the column and extend it to people to play.  The feet are detachable so you can play it sitting down OR with a lovely strap system. This harp is phenomenal! Soon I will post a video of the harp here so you can hear it and see all the wonderful features.  THANK YOU DWIGHT AND CINDY!  I now have a Touring Harp for all my needs!  And only 10.4 pounds!  My back thanks you too!
Because Carbon Fiber needs to be painted, you can choose your color for the harp. People like to choose Blue, Maroon, Almond, Red, Black – you can choose your own color – see some of the color options on their website.
MORE Close up PICTURES  of the TOURING CX33 Harp at the BLEVINS SITE
Cost $5469.00 (with Black tuning pins) comes with case, strap, s/h in USA,
Cost $5619.00 (with Gold-plated tuning pins) comes with case, strap, s/h in USA
Mat finish (instead of textured) is $90.00 extra Sound Pickup installation $130.00 Extra String Set $180.00
Comes with 33 complete set of Gold-Plated Truitt Levers
Case (dark blue or silver gray)
Stand, strap system.
shipping/handling included within the USA. Extra for out of country
Specs:
Range:  Low C up to g, 33 strings
String spacing at Middle C:  14.25 mm
Weight:  Full levers with feet detached:  10.45 lb*
Full levers with feet attached:  11.45 lb*
*Weight does not include case or other accessories
Height:  Front of harp column:  55.5″ (to floor)
From floor to top of sound box:  47″
Back of harp total height:  50.5″
Length of sound box itself:  40″
Front to back width:  25.5″
Arm reach to low C string:  16″
---
Package #9A
The County Cork by Jeff Gaynor – These harps are outfitted with the levers on the Cs, Fs. This harp is a bit bigger than a Therapy Harp but small enough to be portable with the extra octave + to give a full sound.
The County Cork 26 comes with padded carrying case and tuning wrench: It is 44" high with stand attached, 21" deep, has a 10″ wide sound box and weighs 16 pounds.
This harp comes in either Cherry or Walnut – shown here is Walnut (see Cherry wood under County Kerry harps)
Package #9A – Price TBA $1344.00+s/h*
Extra sharping levers – $16.00 each, installed
---
Package #9B
The County Cork by Jeff Gaynor – 26 strings with a full set of Truitt Levers and padded case.
Weighs approximately 16 pounds
Package #9B – Price $1920.00+s/h*
Both of these harps include tuning wrench
Shipping for these harps in the USA is $40.00
* Please note when selecting a harp, we will contact you with details of delivery times and the shipping and handling cost for your harp, materials and any harp accessories.